Power to the Pedestrian
Publication, Photography, Web Design
This project centers around a 186-page publication that visually explores automobile dominance in Minneapolis with strategies to return power to pedestrians by way of graphic and urban design.
The vast majority of Minneapolis streets are dominated by car traffic and are unsafe for pedestrian life. This vehicular dominance has been normalized on our urban corridors and needs disrupting. That said, many residents are unsure of how to advocate for their neighborhoods and what design strategies are available beyond lowering speed limits. This publication equips urban residents of Minneapolis with knowledge of data, traffic calming strategies, and resources for advocating for people-first infrastructure on their local streets in order to create future streetscapes that benefit all users.
Read more about the project's process, inspiration, and sources on
my self-coded capstone page here.
Capstone Project
Master of Arts in Graphic and Web Design | Minneapolis College of Art and Design
August 2020
Chapter 1: Reality Check
Using data visualizations, this chapter takes a close look at the bleak reality of walking on the streets of Minneapolis.


Chapter 2: Keep Traffic Calm and Carry On
Using photographs, diagrams, and text, this chapter delves into specific traffic calming typologies, their economic impacts, and successful examples that reclaimed streetscapes for people.


Chapter 3: Case Study — Lyndale Avenue S and 27th St
Using photographs, street plans and sections, and contemporary examples, this section examines the pedestrian challenges at this notorious Minneapolis intersection and offers traffic-calming-centric solutions to improve the space for people on foot.


Chapter 4: Advocacy Toolkit
This chapter includes additional contacts and resources to support better pedestrian infrastructure and a collection of postcards to distribute to expand their advocacy reach.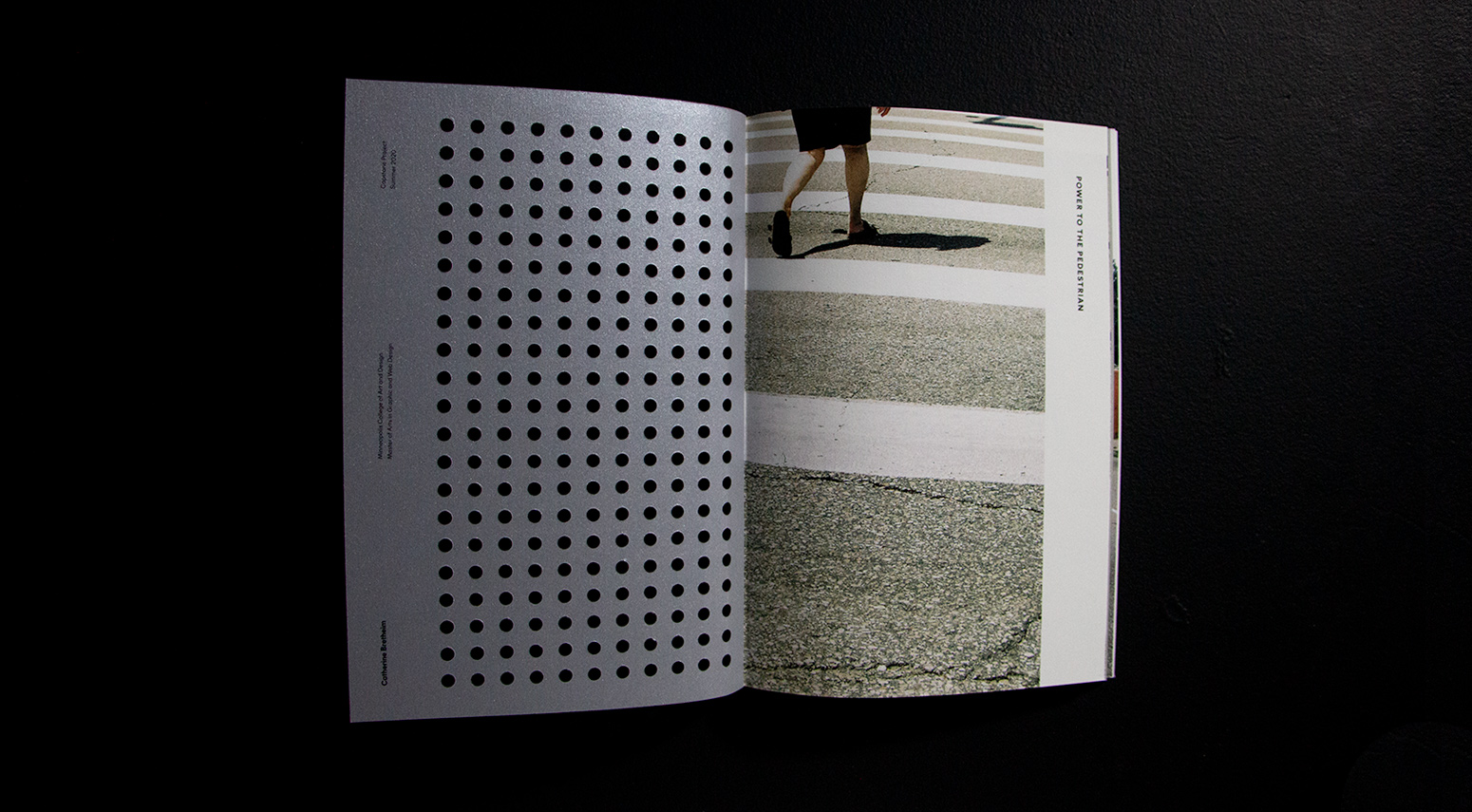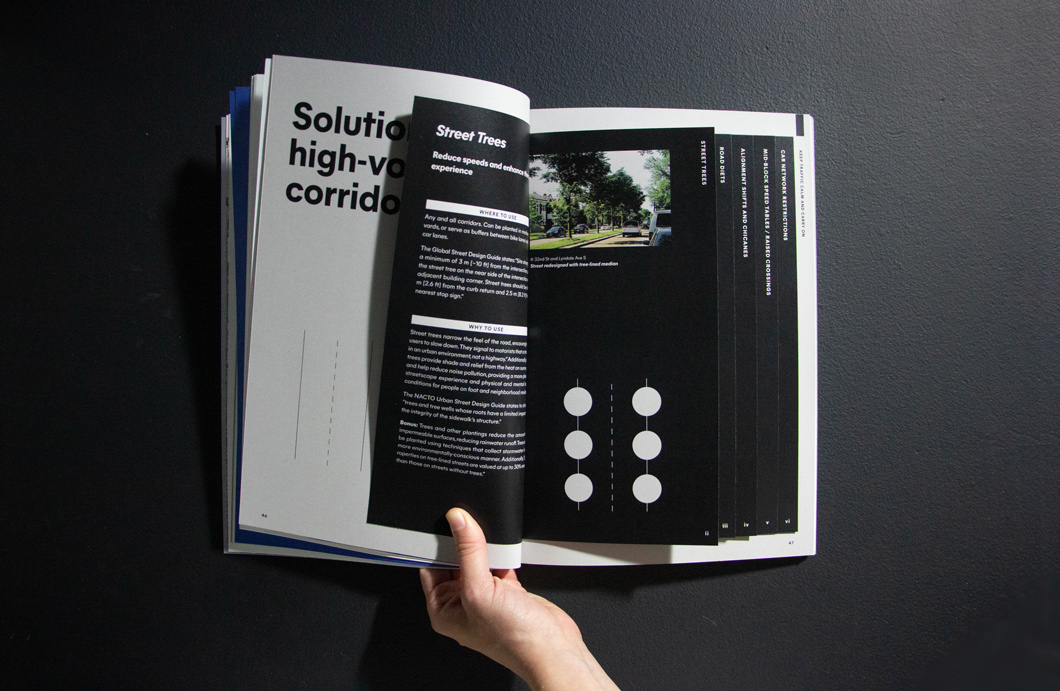 Stille is a conceptual sauna and product line that prioritizes a restorative atmosphere and organic, high-quality ingredients. The word "stille" is Danish for still, calm, silent, or rest. In its old Norse etymology, it means to place, supply, satisfy, quench, or alleviate. Inspired by Sjaellandsgade Bade, a historical bathhouse in Copenhagen, Denmark, Stille elevates the communal rituals of sauna-ing and bathing through its relaxing environment and quality spa products. In addition to its services and products, Stille hosts croquis figure drawing workshops to celebrate the body and community openness. These events and the organic ingredients and textures found in the spa inspire the painted illustrations seen throughout the space and packaging.

Services: Sauna gus, warm baths (free for those without access), croquis (figure drawing) events
Products: Natural lotions, essential oils, room sprays

Brand voice: Inclusive, sensory-focused, expressive, calm
Brand essence: natural, relaxing, open, clean, aromatic, sensual, patient




Nordwood is a Nordic skiing venue where visitors come to escape, ski, and restore. Nestled in the North Woods of Minnesota, Nordwood offers pristine cross country skiing and snowshoeing trails. Nordwood's name celebrates the Minnesotan wilderness and skiing's Nordic roots.

Brand concept for Design in Context course at the Minneapolis College of Art and Design. 2017.



Nordwood from Catherine Bretheim on Vimeo.


The brand's logo embraces the rolling hills of Minnesota's terrain and highlights the corduroy pattern seen in freshly- groomed snow. The logo's "N" typography is an ode to compass navigation and the site's northern location.

The color palette features cool tones evocative of the cold winter and warm rust tones that are a nod to the Iron Range.

Nordwood's amenities support this visual branding; cabins and the main Chalet draw from Scandinavian modern architecture. Signage materials include birch wood and black steel.

Brand voice: Warm, hospitable, restorative
Brand essence: Nordic, adventurous, nature-focused, fresh


Spoked

Branding, Web Design



SPOKED is a conceptual bicycle infrastructure consultant agency that focuses on community engagement. Spoked takes a people-first approach to studying commuter behavior in order to develop bike lane interventions that support commuter needs and encourage higher biking rates.

Deliverables: Visual identity, community engagement toolkit, and website design for Design Studio and Web Design courses at the Minneapolis College of Art and Design. 2018.





The comprehensive website design process included moodboards, site flow diagrams, static wireframes, live wireframes, static mockups, and web development. View the entire process book here.